For many in the NAIborhood, the last few weeks have been spent binge watching Wrestlemanias of old in preparation for next weekend's festivities.
However, not everyone might have had the time (or interest, honestly) to do so.  Still, some sort of homework must be done, so leave it to "The Teacher" to have you covered.
This is the first of what might be a couple of Wrestlemania Watch Lists, where I offer a series of matches for your entertainment and education.
How do I select these?  Well, I'd love to say that I've spent hours upon hours scouring through the entire Wrestlemania archive and using a carefully constructed criteria, have ranked everything myself.  But sadly, even I don't have that kind of time.
So I'm using Meltzer's ratings.
Disclaimer:  I am NOT in love with Dave Meltzer's ratings system.  In fact, it's confusing and seems to have a whole lot of personal bias thrown in.  However, until I find a better system (one with a clearly understandable rubric), this is all I've got.
This week: The Highest Rated Matches of Each Wrestlemania
Wrestlemania 1 - Ricky Steamboat vs. Matt Borne - 3.25 stars
Note: If you don't know who Matt Borne is. . . It's Doink.  The Dragon is wrestling Doink.
Wrestlemania 2 - The British Bulldogs vs. The Dream Team (Greg Valentine and Brutus Beefcake) - 4 stars
Wrestlemania 3 - Ricky Steamboat vs. Randy Savage - 4.5 stars
Note: This match would appear on anyone's ratings system, I believe.  Some consider it, from a WWF standpoint at least, the first "modern" match.  If you have never watched it, fix that promptly.
Wrestlemania 4 - (3 WayTie) - 2.25 stars
Note: As the low rating suggests, Meltzer wasn't a huge fan of these tournament matches. I seem to recall finding them better than he did, but none of them were stand-outs.  As for the winners, we have Ricky Steamboat vs. Greg Valentine, Randy Savage vs. Greg Valentine, and Savage vs. Ted Dibiase.
Tangent: Greg Valentine and Ricky Steamboat are really the standouts of the very early Wrestlemania years, as either man was part of the best matches of the first four Manias.
Wrestlemania 5 - Hulk Hogan vs. Randy Savage - 2.75 stars
Wrestlemania 6 - Hulk Hogan vs. Ultimate Warrior - 3.75 stars
Note: Yes, Hulk Hogan had the best match 2 years in a row.  Obviously Meltzer considers storytelling alongside (if not above) in-ring action.
Wrestlemania 7 - Randy Savage vs. Ultimate Warrior - 4.25 stars
Wrestlemania 8 - Randy Savage vs. Ric Flair - 4.25 stars
Tangent: The first decade of Wrestlemanias belonged to the Macho Man, as we can see, which makes the fact that he didn't wrestle at Mania 9 so curious.  Was he injured? Was it really that Vince thought it was time to move on, since obviously Savage still had some gas in the tank.  I mean, he had a very enjoyable match with Crush at Wrestlemania X. . .  Odd.
Wrestlemania 9 - Shawn Michaels vs. Tatanka - 3.25 stars
Wrestlemania 10 - Shawn Michaels vs. Razor Ramon - 5 stars
Wrestlemania 11 - Shawn Michaels vs. Diesel - 4 stars
Note:  Really? I remember very little from Mania 11, despite it being as close to my hometown as you could get. I certainly don't remember this main event being anything good. . .
Wrestlemania 12 - Shawn Michaels vs. Bret Hart - 4.25 stars
Tangent:  It's a shame we never got to see a prolonged feud between HBK and Macho Man.  Apparently there's a match or two floating around out there on the Internet, though.
Wrestlemania 13 - Bret Hart vs. Steve Austin - 5 stars
Note: According to Meltzer, this and the ladder match from WMX are the only 5 star matches in Wrestlemania history.  If you want proof that his ratings system is totally wrong, that's probably exhibit A.
Wrestlemania 14 - New Age Outlaws vs. Cactus Jack and Chainsaw Charlie AND Shawn Michaels vs. Steve Austin - 3.25 stars
Wrestlemania 15 - Steve Austin vs. The Rock - 3.5 stars
Note: Impressive 3 year run for Stone Cold, especially when you consider he broke his neck in between Mania 13 and 14, forcing him to drastically alter his wrestling style.
Wrestlemania 16 - Dudleys vs. Edge and Christian vs. The Hardys - 4 stars
Wrestlemania 17 - Dudleys vs. Edge and Christian vs. The Hardys - 4.75 stars
Note: Only three matches will repeat as the best match of back to back Wrestlemanias - Without cheating, can you name the other two?  Bet you can.
Wrestlemania 18 - (3 Way tie) - 3 stars
Note: Ric Flair vs. Undertaker, The Rock vs. Hulk Hogan and Chris Jericho vs. Triple H all share the victory here.  Having just recently seen this PPV, I agree with the first two, but Y2J vs. The Game doesn't belong here.  Good match, but not on the level of the others.
Also, despite this being the second decade of matches for The Deadman, this is his first appearance on the list, but nowhere near his last.  More on that later.
Wrestlemania 19 - Shawn Michaels vs. Chris Jericho and Kurt Angle vs. Brock Lesnar - 4.25 stars
Note: Imagine how good it would have been had Lesnar NOT landed on his head!!!
Wrestlemania 20 - Shawn Michaels vs. Triple H vs. Chris Benoit - 4.75 stars
Note: This is a 5 star match to me.  Not sure what the .25 was Meltzer deigned to deduct from this Triple Threat, but it was as good as you can get.
Wrestlemania 21 - Shawn Michaels vs. Kurt Angle - 4.75 stars
Note: I originally was trying to devise a formula one could use to accurately calculate "Mr. Wrestlemania", but after looking at this list, there's no point.  Even the Undertaker, at 21 and 1, doesn't hold a candle to the Heartbreak Kid.  Four Best Matches in a row in the 1990's, then 3 more consecutive ones in the 2000's, and we're STILL not done!
Wrestlemania 22 - Money in the Bank and Mick Foley vs. Edge - 4 stars
Note: Foley vs. Edge should be ranked higher, and not just because MITB is a glorified spot-fest (albeit a thoroughly enjoyable one).  Mick Foley and Adam Copeland damn near killed each other (and Amy Dumas, while they were at it) and if you want to choose a single moment when Edge went from being a good wrestler to a main event juggernaut, I imagine this was probably it.
Wrestlemania 23 - Money In the Bank - 4.25 stars
Wrestlemania 24 - Edge vs. Undertaker - 4.25 stars
Wrestlemania 25 - Shawn Michaels vs. Undertaker - 4.75 stars
Note: This is not only a 5 star match, it probably goes beyond that.  In the NAI150, most people picked this match as the best one OF ALL TIME.  Yet Lord Meltzer deemed it unworthy of such distinction.
Tangent:  Seriously, why can't somebody come up with a better ratings scale?  Do I have to do this?  Is this what my life will become now?
Wrestlemania 26 - Shawn Michaels vs. Undertaker - 4.75 stars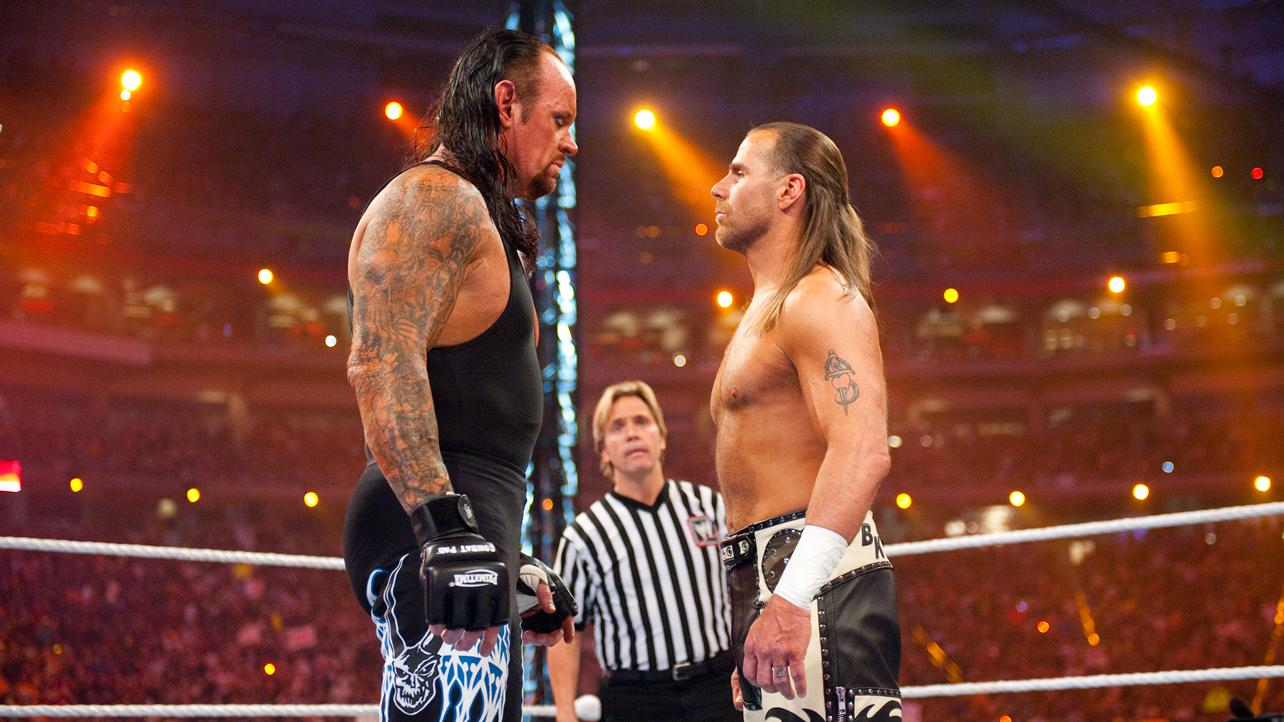 Note: Shawn Michaels stole the show at just about one third of all Wrestlemanias.  Forget you, Triple H, let's all bow down to the REAL king, the guy. . . . The guy who probably wouldn't find it religiously appropriate for us to bow down to anyone.  How about a hearty handshake, Shawn?  Nice work!
Wrestlemania 27 - Triple H vs. Undertaker - 4.25 stars
Wrestlemania 28 - Triple H vs. Undertaker - 4.75 stars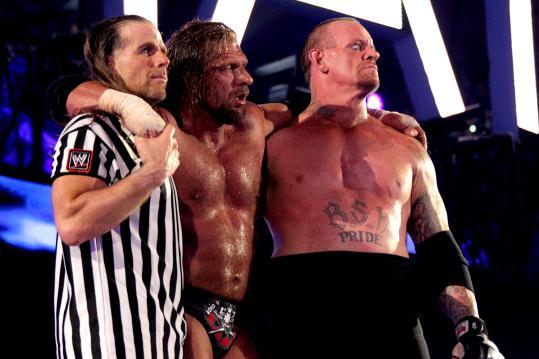 Wrestlemania 29 - CM Punk vs. Undertaker - 4.5 stars
Note:  It's worth mentioning here that Undertaker turned 40 years old in 2005, yet this Streak, if you will, didn't start until he was 43.  From ages 43 to 48, Undertaker had the best match at Wrestlemania.  Now, granted, his opponents (Edge, HBK, HHH, Punk) were among the best in the world at the time, but regardless.  This might be even more impressive than being 21-1.  Any other wrestlers you know that peaked in their 40's?
Wrestlemania 30 - Randy Orton vs. Batista vs. Daniel Bryan - 4.5 stars
Wrestlemania 31 - Brock Lesnar vs. Roman Reigns (guest starring Seth Rollins) - 4.5 stars
Note: Curious thought experiment would be what the ratings, and crowd response, would have been had we not been TOTALLY SHOCKED by Rollins cashing in during this match.
It's the wee hours of Thursday morning, and while Jason Moltov, Liam Stryker and Bill Neville are all California bound, this writer is quite excited to live vicariously through our New Age Insiders as they take part in all the craziness that is Wrestlemania weekend!
That includes, for those of you living under a rock or something, NXT on Friday, Axxess all weekend long, Wrestlemania itself and that little thing known as the 2015 induction ceremony for the WWE Hall of Fame.  This year's class, as most of us have mentioned at multiple points in the last few weeks, is not the strongest on record, but it does feature some top candidates, including the most recently announced inductee, Kevin Nash.
Ahhh, Kevin Nash, he of the near 7 foot height, the vulnerable quads and the infamous cattle prod.  (Sorry, Jason, but I had to)  Mr. Nash might be most famous for his participation in the Monday Night Wars, but here on Throwback Thursday, you know we're not going to be talking about that - Oh, nay nay.
We're going to focus on the bad. . . The very, VERY bad. . . gimmicks of Kevin Nash's career.
Master Blaster Steel
Nash began his career in WCW in 1990 as Steel, one half of the monster tag team "The Master Blasters".  What were the Master Blasters, exactly, besides total knock-offs of the characters from Mad Max?  Hard to say, really.  They didn't last long enough to know for sure - By 1991, they were pretty much done.
Oz
Next up is Oz, the great and powerful wizard.
No, seriously.  There was a Wizard of Oz gimmick in professional wrestling.
Emerging from a ridiculously fake "emerald city", Nash wore a ridiculously giant cape and, as the picture clearly shows, a ridiculously ridiculous mask.  He even had a "Great Wizard" as a manager (whom I learned through the research for this column was Kevin Sullivan, also in a dumb mask).
Here's a picture of Nash unmasked as Oz, complete with silver hair.  Oddly enough, he'd be able to pull off Oz right now even better than he did 24 years ago.
Vinnie Vegas
I've got to admit - this one is my favorite.  I mean, come on. . . Look at this picture.
For this gimmick, according to Wikipedia, Nash portrayed a "wisecracking pseudo-mobster", which is as close to the real Kevin Nash as we've had so far.  Just look at that image again - You can see Nash doing something like that in his NWO days. . .
Nash was part of a "giant wrestler" stable managed by Harley Race, which was called "A Half Ton of Holy Hell".  Don't blame me - I didn't make that up.  After that mercifully ended, Nash was part of the "Diamond Mine", where he was aligned with future friends and teammates Scott Hall (Diamond Stud) and Mr. Yogini himself, DDP.
Despite finally having a somewhat serviceable gimmick, Vegas never made it to any level of success in WCW, moving onto the WWF in 1993.
Diesel
Kevin Nash began his WWF career as the strong, silent muscle behind Shawn Michaels, back when Michaels was the Intercontinental champion.  We've seen plenty of these types of character over the years, usually going nowhere fast, but Diesel was different.  Nash's personality, his inner "Vinnie Vegas" if youuu willlllll, began to shine through, and Vince McMahon quickly learned what he had - a 7 foot powerhouse with charisma to match.
Before long, we went from the guy above to. . .
and the rest is WWE (or at least, what they'll admit in the Hall of Fame video) history.
---
One of the common refrains from the IWC, besides the anti-Reigns and Give Divas a Chance stuff, is how tragic the gimmicks of many WWE mid-carders are.  Bo Dallas.  Adam Rose.  Fan-flippity-dango.  "How will they recover from such poor treatment?" these Twitterers cry.  "You can't come back from such crap!"
To those people, I say, our final 2015 Hall of Fame inductee came back from being the literal Wizard of Oz to have a super successful wrestling career.  Passion, charisma, natural talent (be it physical, verbal, etc.) will shine through, no matter the gimmick - Kevin Nash, love him or hate him, proves that.
---
Oh, and just for fun, let's showcase possibly the worst gimmick of all, one that never even took place in a wrestling ring.
---
Be Heard.
The year was 2009, and Wrestlemania was celebrating its Silver Anniversary.  25 Manias had fallen by this point, and being 3 years out of college and 6 months away from getting engaged, I had fallen out of love with WWE.
So, for what might just be the very first time last week, I sat down to watch Wrestlemania 25.
Money in the Bank Match: CM Punk, Kane, Christian, Kofi Kingston, Finlay, Mark Henry, MVP and Shelton Benjamin.
Highlight:  With a MITB match, there's going to be multiple prime moments.  For me, I enjoyed seeing two of my all-time favorites once again - Shelton and Finlay.  Hornswoggle's tadpole splash also stands out, oddly enough.
Lowlight: I understand that there usually needs to be a "big man" in these kind of matches, but having Kane AND Henry was a stretch.  Also, I think 8 men is a little much for a ladder match. . .
So What:  This IC title match at this year's Wrestlemania is essentially going to be MITB all over again, and as I said on this week's NAIpod, we have somewhere between 7 and 452 participants.  While I enjoy seeing so many people vying for this title, I worry that the match will be even more of a "spot-fest" than usual with so many combatants.
So What #2:  As a middle-class Caucasian male, this is dangerous territory, but I have to ask:  If Shelton Benjamin and Kofi Kingston were of a different ethnicity, would their WWE careers have happened the way they have?
Miss Wrestlemania Battle Royal
I don't know which was the bigger Lowlight, the Battle Royal itself or the Kid Rock concert that happened beforehand.  I don't mind having musical guests at Mania, but only if they are doing the entrance music, like for Bray Wyatt last year.
So What:  Let's not all pretend that the 29 second Divas match from RAW was the low point in female wrestling history.
Highlight: It's ridiculous that "Miss Wrestlemania" was a guy, but Santina Marella's dance moves after the match made me chuckle, as did his 'emotional' reactions following his victory.  I miss Santino.
Chris Jericho vs. Roddy Piper, Jimmy Snuka and Ricky Steamboat
The things I'm saddest for regarding my "lost years", thus the most exciting things to stumble upon in my WWE Network watching, are the gimmicks and talents I missed.  For example, I don't remember much of any of Chris Jericho's big heel run - the suits, the expansive vocabulary, the fights with the legends.  All new to me.
Highlight:  Ricky Steamboat, who was 56 years old in 2009, showed everyone why he remains one of the best pure wrestling talents in history.  If WWE had asked, Steamboat could have had a 5-6 month program with Jericho and it would have been fantastic.
Lowlight:  Jimmy Snuka, on the other hand . . .
So What:  We won't see this exact gimmick or story arc in NXT but this does show that there's something to be said for bringing back veterans in limited roles.  My hope of seeing Shelton or Finlay again still lives!
Matt Hardy vs. Jeff Hardy in an Extreme Rules match.
Once again, no recollection of this.  Matt Hardy basically admits he kills Jeff's dog?  What?
Highlight:  Good match overall but the finish, when Matt wedges Jeff's head in a chair and then does a Twist of Fate, that was pretty painful to watch.
Lowlight:  Maybe it's because I wasn't as well-versed in the feud, but I didn't find myself as drawn into the story as I felt I should have been.
So What:  People didn't really like the Goldust vs. Stardust match at Fast Lane, but even that match had a compelling story.  Or I'm just a huge Goldust mark.
Rey Mysterio vs. JBL for the Intercontinental Title
Highlight:  Everything about this was amazing.  JBL owned the crowd from beginning to end - If I'm ever asked to defend my belief that John Layfield is a future WWE Hall of Famer, this might be the evidence I use.  The best moments are when the camera focuses on his face after the 21 second match is over.  He looks like one of my students when they realize they don't have a snack.  You just wanted to give him a hug!
Lowlight:  Rey Mysterio didn't quite pull off the Joker look.  The wig that fell off immediately didn't help, but it just wasn't working.  Rey's costumes are best when he is a "masked" character - I loved him as the Flash, for example.  This one was a miss.
So What:  It's a shame Mysterio didn't have a non-wrestling role in WWE - I think there could have been a place for him.  JBL's place, to me, shouldn't be as an announcer.  He could really have succeeded as a manager, running a "Million Dollar Corporation" style stable.
Undertaker vs. Shawn Michaels
Oddly enough, despite being almost positive I've not seen this card before, I remember a lot about the build-up to this match.  My best guess is that as I perused WWE.com, keeping up on the storylines, I saw HBK dressed in the white Taker get-up and was intrigued enough to start watching some videos.
So What:  I miss when storylines were this good.
Highlight:  Come on, you've seen this match.  It's THE highlight of the night.
Lowlight:  Is it a perfect bout?  Possibly.  That would explain why I struggle to find anything I didn't enjoy about it.  Even the "botches", like when both HBK and Taker nearly died, were awesome.
Edge vs. Big Show vs. John Cena for the World Heavyweight Championship
Wow, what did these three do to irritate Vince McMahon?  How were these guys supposed to continue the momentum from Shawn and Taker?
Highlight: Watching the promo package before the match.  I laughed out loud seeing what happened with Big Show and Vickie Guerrero.
Lowlight:  Spending 14 minutes on a Cena win.
So What:  The fact that Edge, arguably the best wrestler of the three, is unable to compete anymore, yet there's a good chance we'll see Big Show vs. Cena on RAW sometime soon.
Triple H vs. Randy Orton for the WWE title
Highlight:  The promo package.  I wish WWE Network hired some folks to make these awesome packages for older PPV's.  I'd love to see a modern take on the feud between Magnum TA and Tully Blanchard that let to their cage match our own Magnum loves so much.  Once again, I was transported, and though it was only 5-6 years ago, it felt like a totally different universe.  Don't remember any McMahons getting punted, don't remember Randy kissing Stephanie. . . None of it rings a bell.  That alone was fun to watch.
Lowlight:  The match itself was "meh".  Again, I think its having to follow such an epic Taker / HBK match, but this just seemed to be a "match".  They gave it their all, there is no question, but I wasn't feeling it.
So What:  WWE will have to be very careful with the match order for Mania.  Despite what they'd like, Brock vs. Reigns is NOT the match most of us are really looking forward to.  They should avoid at all costs an anti-climactic final match.
Match of the Night:
What else would it be?  Undertaker vs. Shawn Michaels was phenomenal.  Bonus points go to JBL and Rey for telling quite a story in less than 5 minutes, though.
Discussion Questions:
What would YOUR ideal Wrestlemania 31 match order be?
How sad is it that only Kofi and Kane are left from the MITB participants?
Could Ricky Steamboat still wrestle a 20 minute match?  How could he not?
I'd like you all to do me a favor.  Close your eyes. . . And take a deep breath.
. . .
. . .
You can smell it, can't you?
No, I'm not talking about what The Rock is cooking - It's The Road to Wrestlemania, and it's getting closer.
In fact, for my money, the first stop on the Road is the best one… Yes, my friends, I'm a Royal Rumble junkie.
I've written about the Rumble in the past, so for today's NAIstalgic look back, I wanted to talk about my personal favorite Rumble match, and why I think it is likely the best one ever.
Step aboard the DC Time Machine, my friends, and let's take a trip back to the glorious year of 1992.  I submit half a dozen reasons why this battle royal was the greatest one of all.
1.    In this Rumble, the winner didn't earn the typical title match at Wrestlemania.  Thanks to some fishy officiating (thanks to those crazy Hebner boys), the WWF title was vacant, and so the winner of the Rumble would become champion.  This is the only time in history that has happened, which simply by definition sets it apart.
2.    Each year, the Royal Rumble is a "Who's Who" of current roster talent at the time, with a couple surprises mixed in just to keep things interesting.  The 1992 Rumble is special simply because looking at some of these entrants is essentially reading off a Hall of Fame list.
Among the competitors:
British Bulldog
Ted Dibiase
Shawn Michaels
Tito Santana
Kerry Von Erich (as Texas Tornado)
Greg Valentine
Big Boss Man
Roddy Piper
Jake Roberts
Jim Duggan
Jimmy Snuka
Undertaker
Randy Savage
Iron Shiek (as Col. Mustafa)
Rick Martel
Hulk Hogan
Sgt. Slaughter
3.  In addition, the '92 Rumble features some of the all-time bad gimmicks, which to me, are almost as good as the genius ones.
Our original Throwback Thursday, Mr. Barry Darsow himself, this time as Repo Man!
Hercules
Irwin R. Schyster (poor Mike Rotunda)
The Berzerker
Virgil
Skinner
The Warlord AND The Barbarian (aka, The Ascension)
Think back to your favorite Royal Rumbles in history.  I venture your mind immediately goes to one that either had a memorable single superstar performance OR some sort of unusual ending.  This one had both.
4.   The 1992 Royal Rumble was, to me, the introduction of Ric Flair to the mainstream WWF audience.  He had been part of the company since August of that year, but this was the first time people got to see what The Nature Boy could do.  Entering 3rd in the Rumble, Flair became the first competitor in history to last over an hour, an incredible feat that had only ever really been sniffed at by the aforementioned Rick Martel the year previously.
In fact, going a step further, up until '92, the winners of the Royal Rumble (Duggan, Big John Studd and Hogan twice) had only ever been in the ring between 10-20 minutes before claiming victory.  Flair did three times that.  While others have lasted even longer in future Rumbles, Flair, as always, was the originator.
5.  When I asked you to harken back to a Rumble memory, perhaps you thought of Bret Hart and Lex Luger eliminating each other right before Wrestlemania X, or the way Chris Benoit eliminated Big Show to win back in 2004.   These moments tend to sear themselves into our brains far more than just a "standard" elimination.
In 1992, the final four combatants were Flair, Hogan, Savage and Sid "Not-Yet-Vicious" Justice.   Justice eliminated Savage, and then 'snuck up' on his storyline-ally Hogan and tossed him out as well.  Upset at the backstabbing, Hogan grabbed Justice's arm, allowing Flair to take advantage of the situation and eliminate Sid, winning the Rumble.
Again, this is the first time (I think) that any sort of chicanery was involved in the ending of the event.  We may well see something like this again next month if Dolph Ziggler winds up eliminating Cena, who somehow harnesses the power of #KidsAndTroops to worm his way in after his main event match with Lesnar.
(Also, much like the 92 Rumble, the crowd would go bananas for it if it happened.  Unlike 92, I doubt WWE would dub over the crowd reaction, as they did when the New York fans were applauding Hogan's elimination.)
Finally, the ultimate reason this Rumble beats all others.
6.  Bobby Heenan
If you asked me to pick the best wrestling announcer performances in history, Heenan's mastery of the '92 Royal Rumble is right at the top along with JR's calling of "The Cell".   'The Brain', one of two Flair allies at the time, spends the entire time riding a roller coaster of emotions as Flair fights, claws, begs, pleads and hides his way through the Rumble.
Seriously, go watch that match.  By the end, Heenan sounds legitimately exhausted, as if he had been the one to compete for 60 minutes in that very ring.  It's a level of genius I have still yet to see duplicated.
So there you have it.  My favorite Royal Rumble in history.
What are YOUR favorite Rumbles of all time?  Or are you more of a World War III type?  (Kidding, of course, nobody liked those.)
Discuss.  Be heard.  Get ready for The Road to Wrestlemania
Historical Context

When I began watching wrestling in the early 1990's, there were four WWF Pay-Per-Views a year; Wrestlemania, SummerSlam, Survivor Series and Royal Rumble.  That's it.  Now to some new wrestling fans that might seem insane.  To some, it might border on sacrilege.  To others, it might seem like a very good idea, considering the Battleground hate I've read on Twitter this last week, but I'll save that for a separate column.
In 1993, Vince McMahon expanded by adding King of the Ring, the 5th "major", as it were.  In the years that followed, whether it was in response to the growing popularity of the competition in WCW or just as an experiment to try to earn more money, Vince added "In Your House".  Originally designed as a shorter, cheaper PPV, the In Your House series would be the 'minor' spectacles to fill the monthly gaps between larger events.
For our next Lessons from the Network, we take a trip to the IYH event from December of 1997.  WCW has taken over the lead in the Monday Night Wars, and at this point, WWE is on the ropes.  This is also the first PPV after Survivor Series '97, also known as the Montreal Screwjob.  On the cusp of the Attitude Era, we now sit under the learning tree known as Degeneration X: In Your House.
Lesson 1:  Proper planning prevents poor performance.
Unfortunately, this lesson is learned by what the then-WWF DIDN'T do, as In Your House is a very thrown together event filled with various forms of killing time to try to fill three hours.  Almost every talent on the card has an interview segment, matches that would barely make the pre-show of any real PPV get 10+ minutes, and there are a lot of crowd shots and announcer back-and-forth.
Just before the Tag Team title match (Legion of Doom vs. Road Dogg and Billy Gunn), Road Dogg is blatantly stalling for time, though at least he does so in an entertaining way, but more on that later.  Also, Jeff Jarrett faces The Undertaker in a match that has no other purpose than to waste multiple minutes before Kane makes his entrance.  (Historical note: Kane had recently made his debut and was trying to goad 'Taker into a fight, which wouldn't happen until 'Mania the following spring.)
To completely illustrate the lesson, at least 5 minutes of screen time is filled by Goldust (clad in pink spandex, barefoot and on a leash held by Luna Vachon) reading from Green Eggs and Ham.  Did this do anything other than to fill airtime?  I can't honestly imagine so.
Which brings us, oddly enough, to Lesson #2:
Lesson #2: Goldust is a Hall of Famer.
I know that seems a. . . excuse me, but bizarre thing to say considering the shell of a man we see on this PPV, but I mean it.  Dustin Runnels was on the card for our first Lesson from the Network (Battlebowl 1993), he is part (in his own way) of IYH, and he was on RAW this past week.  That's over a 20 year career, and there is absolutely no argument that the Goldust of 2014 is in the best physical condition of likely any point in said career.
Not only counting the historic lineage of the Rhodes' family, but Goldust absolutely changed the wrestling world when he made his debut in the mid-90's.  There had been unusual characters who had tiptoed on the feminine side before (Adrian Adonis comes to mind), but Goldust blatantly and feverishly crossed the line as often as possible.   In an age where homosexuality was not nearly as publicly acceptable as it is today, he pushed the envelope big-time.
While he had his own demons to fight (and the character of Seven to answer for), Dustin turned his life around and is now both an active wrestler and backstage presence in WWE.  Looking at his career in its entirety, he has to be inducted into the Hall of Fame someday, though I doubt his appearance on this particular card is one that will be included in his promo package.
Lesson #3: Don't judge a book by its cover. 
Obviously, Goldust would be one example of this, though I am specifically referring to two talents on the card who, if you took them at face value, wouldn't seem to be that impressive, but showed surprising amounts of talent and toughness.
The first is one of the members of Los Boricuas, the Puerto Rican gang led by Savio Vega who battled with the Nation of Domination and the Disciples of Apocalypse.  While I like Savio (and expect we'll have an entire lesson or two about the Kwang character at some point), I'm actually referring to his comrade Miguel for this lesson.
Miguel is. . . how shall I put this delicately. . . He's the hairy one.  The "Shave your Back" chants you hear at IYH?   Those are for him.  He does not look like your modern day vision of a wrestler, and one would expect him to be a brawler through and through.  That's before Miguel pulls off an incredibly impressive standing moonsault that was nowhere in the vicinity of anything I had seen coming.  He also, at the end of the match, does a rather nice somersault leg drop.   I was pleasantly surprised by what I saw with Miguel, which is good, because the rest of the match was terrible.
Our second example of not judging a book by its cover is Sgt. Slaughter.  Now, I'm not denying his earlier successes; the man was WWE champion at a point when he was arguably already past his prime.  I'll also go on record and profess my love for the Cobra Clutch, as my cousins and childhood friends can attest, though I'm sure they would have preferred I learn how to do it right first.
The reason I bring up the Sarge is that in 1997, he is 49 years old and wrestles in a Boot Camp match with Triple H, back before HHH was a member of The Authority and back when he had incredibly silky hair.  As with Miguel, one would expect this match to be a slow-paced brawl, and while that's a lot of what happened, at one point, HHH whips Slaughter into the turnbuckle, who launches himself into the air, over the buckle and down to the arena floor.  Again, let me point out that he is 49 years old.
A few minutes later, he takes another bump over the top rope.  Now I'm not shocking the world here when I say that former members of the military are tough, but you have to be impressed by the commitment Slaughter gave to this match.  He hadn't been an active wrestler in years, but Sarge took some risks that many everyday competitors would hesitate at.  Didn't see that coming.
Speaking of things you didn't see coming...
Lesson #4:  The WWE Network, and hindsight in general, requires perspective.
The second to last match of the night features blossoming Nation of Domination member Rocky Maivia, who is trying to get a new name to catch on. . . I think it was "The Rock" or something. . . battling Intercontinental champion "Stunning" Steve Austin. . . No wait, that's "Stone Cold" Steve Austin.   Now this match,up until this point on the PPV had not been mentioned once.
Think about that for a second.  The Rock and Steve Austin.  Two wrestlers who headlined 3 Wrestlemania's battling each other and countless more in their own matches.  The two men who arguably stole the show at Wrestlemania XXX by taking turns making fun of Hulk Hogan for not knowing where he was.  Easily two of the most successful professional wrestlers in the history of the world… And their match is almost a throw-in at Degeneration X: In Your House.  When I saw that, I was flummoxed.  I couldn't understand why this match wasn't the most hyped one of the evening, especially considering that the main event was Shawn Michaels defending his title against Ken Shamrock, of all people. As the lesson states, however, you need perspective.
In December of 1997, Austin and Rocky weren't crazy huge stars yet.  Austin had his 3:16 moment the year before, but remember that the evil Mr. McMahon character comes as a direct result of the Montreal Screwjob, which had only recently just happened, and Austin needs McMahon in order to become uber-famous.  As for Maivia, he was still trying to fix his hair and get his catch phrases down.  So while the unheralded match might seem absolutely insane to the 2014 viewer, we need to treat the WWE Network with the right amount of historical perspective in order to fully appreciate its lessons, because. . .
Lesson #5: The WWE Network is a great teacher.
If you are a true fan of wrestling, the Network is a must-have.  Watching this single card gives you an incredible appreciation for the evolution of talent, character building and the WWE as a whole.
Example 1:  Watching Slaughter's entrance, I said to myself, "Self, why is he entering to Kurt Angle's music?"  Now, of course, Angle hadn't made his debut yet, so technically all this time, Angle was using Slaughter's music, which was very cool to learn.
Example 2:  If you're like me ( a super wrestling nerd), you love seeing the history of wrestling moves.  The first match of the night was Taka Michinoku vs. Brian Christopher in the finals of the Light Heavyweight title tournament.  At one point, Christopher uses the leaping legdrop, then known as the Rocker Dropper.  Marty Jannetty used it, Christopher used it, Billy Gunn would 'fame-ass"-ly use it, and now Dolph Ziggler uses it.  Heck, even John Cena uses it, though to his credit, he does it from the top rope.
Christopher then uses a full nelson face plant, which became known as "The Stroke" when Jeff Jarrett had it as his finisher, and was the "Skull-Crushing Finale" when Miz had it.
(Note:  I understand many of you are, in fact, not like me, so these little bits of trivia aren't as exciting to you.  However, since this is my column, I'm sharing the dorky.)
Example 3:  The catch phrases.  I mentioned Road Dogg and Billy Gunn before, and some may have noticed that I didn't call them the New Age Outlaws.  That's because at this point, they weren't the Outlaws yet; in fact, they had just begun to team up.  Watching IYH, you can see Road Dogg working on his entrance hype.  It's not anywhere near DX quality yet, but the seeds are there.  The Rock does his "Finally" line, kind of, and also does the People's Elbow, though it wasn't a named signature move yet.
The WWE Network allows us to watch, sometimes week to week, and learn how these supremely talented individuals tweaked, fine-tuned and finessed all the facets of their personas, making them into the successes (or in some cases, the failures) we know them as today, and there's no better lesson than that.
In Your House as a whole was not the best PPV chain in history, and soon after this card, WWE moved on to individually naming their events.  However, the lessons learned here will serve us well as we continue our exploration of the wonders of the WWE Network.
Class dismissed.