The benefit of snow days is that it gives you time to catch up.  This is my second ROH TV of the day, and I even fit in a movie as well!  If I ever disappear off the face of the Earth, you will find me in Zootopia.
Top Prospect Finals - Lio Rush vs. Brian Fury
I have two lessons for this one - a minor and a major.
Minor lesson - The beauty of keeping other people safe.
I wrote in the column for ROH from 2/27 about the inherent danger in wrestlers of vastly different sizes going up against each other.  Lio Rush and Punisher Martinez made sure to avoid contact with each other, and I understood why.  This match highlighted the opposite of that, and I thought it was really telling as to the skills and person that is Brian Fury.
Now, I'm not a wrestling expert and I've never claimed to be.  So I could be completely wrong on this, and I am aware of that.  But go back and watch this match again - When Lio Rush dives over the top rope, one can distinctly see Brian Fury duck and dart forward, providing a human cushion for Rush to land on.  There is really no logical reason for Fury to do that in a kayfabe sense, so I submit that he did this solely for the protection of young Lio. I was glad to see it.
We've seen the rash of injuries in the last year - We know that wrestling is a dangerous sport.  Guys like Fury do the best they can to make sure that nobody is injured on their watch.  I have to respect that.
Major Lesson - The Top Prospect Tournament needs to take place in NXT / WWE.
Titan Sports has never been shy about borrowing from other promotions, including Ring of Honor.  (Remember when Seth Rollins was WHC and US champion for no particular reason?)  The TPT would be a great thing to borrow.  Who knows, maybe that is what this Global Cruiserweight Series will wind up being.
There's a lot of talent in the NXT developmental system, and as I've tweeted, talked and probably even written about, it's going to be hard to give everyone the time they need if they keep signing new talents every 12 minutes.  Doing some sort of tournament, which would focus on the lesser known guys (Rich Swann, Chris Girard) would be a great way to give some guys exposure.  NXT and WWE brass could see what they had and how the crowd reacted, giving them an opportunity to streamline, tweak or fast-track as needed.
I think this would be beneficial for all involved.
Kongo vs. Moose
Lesson - Rusev is being criminally misused.
It might seem odd that a lesson from a ROH show would apply to a WWE superstar, but those who saw this contest should be able to see my connections.  Kongo, who I have never seen before, is a larger superstar who moves with grace and speed, and was a whole lot of fun to watch.
Rusev is the exact same way, except he also has some legitimate fighting experience under his belt.  How is he NOT breaking down the door of the main event scene?  This isn't just because I made the #PreDCtion that he'd contend for the World Title at some point in 2016 - He seriously is an amazing athlete.  If you can get a high quality match out of somebody who looks and has the name recognition (ie, none) of Kongo, Rusev should have NO TROUBLE getting over.
With the right gimmick, of course.
Note: This lesson could also be applied to Bray Wyatt, Luke Harper and any other athletic big man not getting a fair shake.  The era of the super-heavyweight is over, folks.  This is what "big men" will be like in wrestling from now on - Let's embrace it.
Cedric Alexander vs. Adam Page
Lesson - Adam Page should try some sort of Clockwork Orange gimmick.
With the entrance video and the trunks, he's halfway there already.
Oh, and he looks like Oliver Queen.  That is all.
Dalton Castle vs. Christopher Daniels
Lesson - Multiple wrestling promotions are a very good thing.  
I've been a Christopher Daniels fan ever since I first watched The Era of Honor Begins back in college; in fact, he'd probably be included in my list of Top Ten Favorite Wrestlers of All Time.  In fact, I'm pretty sure he made my Top 3 for last year's NAI150.  As for the Peacock, I'm a Castle fan as well, so I was naturally going to really enjoy this match.
What struck me as I watched was this, though - If these guys were in the WWE system (either NXT or the main roster), what would they be doing?  Dalton is just a more athletic and flamboyant Adam Rose - Would he be part of the Social Outcasts?  The Fallen Angel, while a huge name in the independent scene, wouldn't have the same excitement that Styles or Aries did, so he'd already be fighting from behind by the time he made his debut.
In other words, there's no way we'd be seeing either of these two great wrestlers anywhere near the main event scene, so I'm grateful that promotions like ROH exist to be able to highlight them.
We rejoice each time we hear that new names have signed with WWE, but I think this is one of those 'be careful what you wish for' situations.  The probability that this just leads to more complaining about talents being "b-----" is getting a bit too high for my tastes.
One of the things I'd like to do with DDTpod.com is start crafting columns for the wrestling I watch, and since I happen to have a snow day today (on the second day of spring, no less), I decided to try to catch up on my Ring of Honor viewing.
I have a hard time watching ROH regularly.  Part of it is the inconvenience of it all, and I mean that in the most first world of ways.  Logging onto my desktop, going to the website, logging in, finding where I left off - I mean, man, what a hassle!
Still, I always enjoy it when I do watch, so I'll try to be better about this, NAIborhood.
Rather than providing an actual review, which you can find anywhere, let's go back to my Teacher Days, and I'll try to provide a lesson one can learn by watching each match.
---
Silas Young and the Beer City Bruiser vs. The Boys
Lesson:  Depth of talent matters.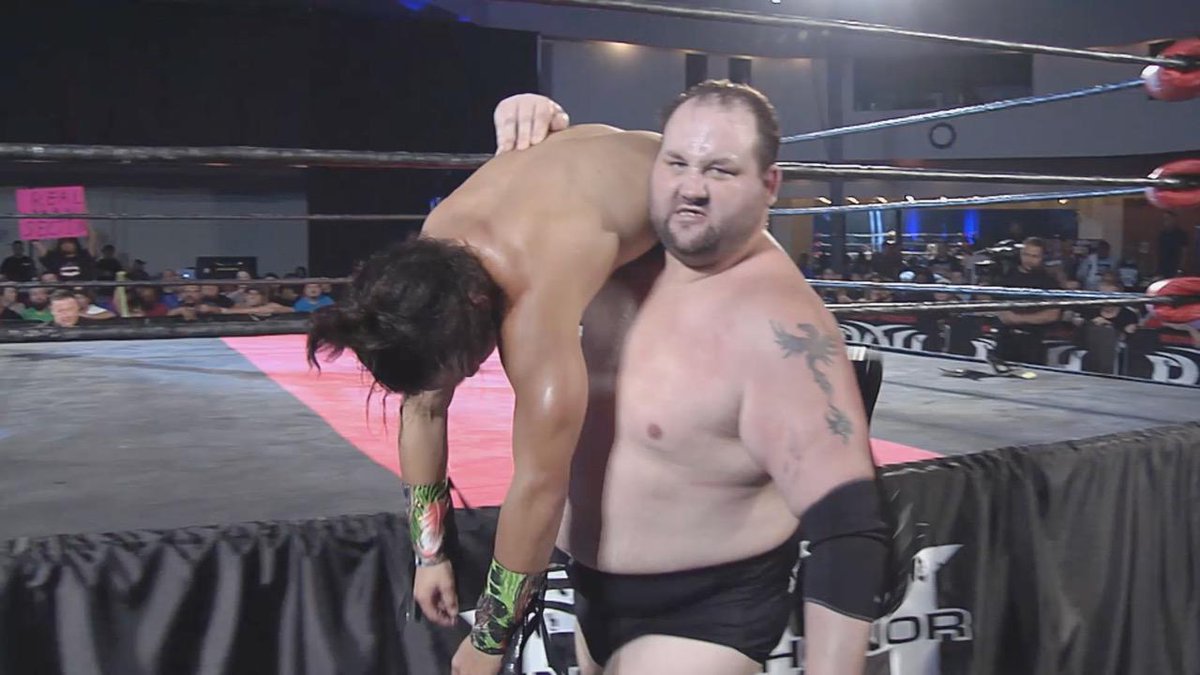 I'm a huge Silas Young fan, as I've mentioned multiple times before, but in this case, I want to talk about everybody else in this match.  Let's start with the Beer City Bruiser, someone who is far more capable in that ring than his size should allow.  Between him and Adam Cole later in the show, I might have to start a petition to start seeing the Wheelbarrow Suplex in WWE - such a good move!
I was also impressed with the abilities of the Boys, whatever their names are.  I was thrilled to see them have actual tights and boots to battle in and they did a pretty admirable job in the ring.  I'm not sure if they are long-term fixtures in the ROH tag scene, but I hope they get a chance, because they were fun to watch.
None of these talents are anywhere near the top of the card yet they were still able to put on an entertaining and engaging opening contest.  You have to have that.
Brian Fury vs. Action Ortiz
Lesson: Experience matters, too.
Sure, I could spend this time talking about the amazing dive that Bam Bam Bigelow Ortiz did, and that was super impressive, but we're focusing on Fury.  In both of his ROH matches so far, we've seen him win by taking advantage of his 17 years of experience.  In his opening match, he grabbed the referee, keeping his opponent from hitting a top rope maneuver and then quickly picking up the win.
In this match vs. Ortiz, he used the momentum of a fall to score a cheap low blow that looked very much like an accident, following it up with his impressive powerbomb.  We don't see this kind of thing often.  I was reminded of watching NWA PPVs on WWE Network - this is how the Four Horsemen cheated back in the day.
Since these shows are pre-taped, I know what happens in the finals, but regardless of the outcome (#SpoilerFree), I hope Fury sticks around in ROH, because he's a lot of fun.
Punisher Martinez vs. Lio Rush
Lesson:  Size matters.
Full disclosure - I didn't realize there was a theme to my lessons here until reading over the first half of the column.  Happy accident, that was.
While this match was good, the fact that Martinez was a full foot taller (not to mention probably 100+ pounds heavier) factored into the quality.  We saw on a couple of occasions that the two wrestlers avoided a full-on collision, probably because it might have squashed poor little Lio.
I'm not taking anything away from either competitor - Punisher looks like he belongs on Lucha Underground ASAP and Lio Rush has a lot of skills for a rookie, but this is one of the reasons why I feel that having weight classes isn't a bad idea.  Martinez' dive over the ropes would have been a whole lot more stunning had he actually connected with Lio with anything but his hair and his fingertips.
Matt Sydal vs. Adam Cole
Lesson: Adam Cole is as natural a talent as Kevin Owens.
I love Adam Cole, babayyyyy.  Everything about him screams professional wrestler, despite the fact that he doesn't have the stereotypical muscle-bound look.  But the way he walks, the way he talks, the way he has the crowd in the palm of his hand. . .
Sounds like our current Intercontinental champion, doesn't it?
Adam Cole and Kevin Owens were both born to be professional wrestlers.  More specifically, born to be heels, even though the crowd goes crazy for them.  They each have the innate gift for this business, and that's why I firmly believe Adam Cole signs with WWE by the end of 2016.  Contracts be damned, whatever Adam's is.  It's going to happen.
BABAYYYYYYYYYYY!