It occurs to me that since I do not talk about the matches themselves during my ROH columns, calling it a "recap" doesn't seem fair.  If people are looking for an actual review of the show, comment below, or head over to the DDTpod forums and make your own!
---
As I watched this week's ROH TV, I couldn't help but think about the things Ring of Honor has that WWE lacks.  I know, I know, I shouldn't bring up Titan Sports in an independent wrestling column, but I can't help it.  95% of the wrestling I've watched since picking up my pen has been McMahon driven, so that's where my head is at.  Regardless, I'd like to highlight two specific things that World Wrestling Entertainment could benefit from "borrowing" from ROH.
Number One - A talent sharing deal with International Promotions
This week's show was the beginning of the push to Supercard of Honor, which is a Ring of Honor crossover show with New Japan Pro Wrestling.  ROH and NJPW have a solid working relationship that has resulted in Jay Lethal defending his World Championship at Wrestle Kingdom 10, multiple New Japan champions appearing on ROH TV and, very recently, the World Television title changing hands as Tomorhiro Ishii defeated Roderick Strong for the belt.
Ishii defended his title in a match against Cedric Alexander on this episode and we also saw an appearance of NJPW legend Hiroshi Tanahashi, who teamed with Michael Elgin against the Young Bucks.  All four men in that main event match are big names in both Japan and the US, so it was an indie darling's dream.
WWE doesn't have, as far as I know, a working relationship with any other International company.  In fact, until recently, I'm not sure they had a working relationship with ANY company.  We're seeing that change a bit with this Global Cruiserweight Series, as EVOLVE will be hosting some qualifying matches, but by and large, WWE is on their own in the world.  To be fair, as the only true WORLD wrestling promotion, I do understand why that is.
But does it have to be that way?
Think of the problems that many fans (perhaps yourself included) have with WWE.  Repetitive matches with the same group of superstars.  Mishandling (or underuse) of certain talents on the roster.  An overall lack of "freshness" with the product.
A talent exchange could solve all of those problems.
Imagine a deal between WWE and a major International wrestling promotion.  WWE sends some of their stars over there, perhaps giving Fandango a chance to find a new gimmick, or Jack Swagger a chance to showcase his style of wrestling in front of some fans who might truly appreciate it.  In exchange, for one week a month, a group of stars from their promotion come wrestle on RAW or Smackdown, or perhaps on a WWE Network special event.  If WWE paired with a UK promotion, perhaps we'd get Zack Sabre, Jr vs. Sami Zayn, or Timothy Thatcher vs. Dolph Ziggler.  If it was Japan (maybe even New Japan), we get Orton vs. Okada, or American Alpha vs. . . . . . . . I don't know any Japanese tag teams, but put your favorite one in there, alright!
I think this could be a great way to bring some excitement to WWE and foster some positive business partnerships between these top organizations........
Or WWE can just keep signing the top stars, making my entire point moot.  Either one.
Number Two - A Rebirth of Managers (using some ROH talent)
If you're a veteran fan like I am, or even if you've just watched some of the WWE Network archives a bit, you know that there was once a time where managers were EVERYWHERE in professional wrestling.  At one point, Bobby Heenan, Reverend Slick, Jimmy Hart, Sensational Sherri AND Mr. Fuji all had talents to manage at the same time, and I'm probably missing a couple of other ones as well.
Now what do we have?  Heyman is an advocate (he doesn't get involved in the matches, though to be fair, with a guy like Brock Lesnar, he doesn't have to), I don't remember the last time Lana accompanied Rusev to ringside, and. . . . . . That's about it.
WWE doesn't seem to have the time or the inclination for managers, which is a shame, because they have the need for them.
A professional wrestling manager serves many purposes.  They are a voice for talents who can not (or, rather, SHOULD not) speak for themselves.  They offer a number of branching out points for storylines and, to be honest, they're just plain fun.
As I watched ROH this week, I saw three talents who may never get signed to WWE as wrestlers, but could have a very solid career as managers.
1. BJ Whitmer
Besides the guy named after fast food, there was nobody I disliked more on the ROH roster than Mr. Whitmer.  Since I only started watching their weekly TV show when it got its latest deal, I didn't (and still don't, really) understand the backstory between him and Steve Corino, I didn't like the whole storyline behind Corino's son Colby, and I just found Whitmer to be an annoying, irritating, complete and total waste of space.
Which meant he was doing his job, I suppose.
He was a good talker, though, and this week, when he came out to face Ishii for the TV title only to be bought off by Veda Scott, I started to see his value for the first time.  He wasn't abusing a kid or trying to provoke an aging retiree with a broken neck, now he was blatantly admitting to the crowd that he'd take a payoff.  I found it hilarious.
Whitmer is the kind of guy who could help a lot of heel talents, specifically in NXT.  Blake and Murphy might be more than just total Black Holes of Charisma if paired with Whitmer instead of Alexa Bliss.  Perhaps BJ could be the guy to finally convince Elias Samson to hit somebody with the chair instead of playing it.  BJ could be the heel manager NXT needs right now.
As for a WWE manager. . .
2. Christopher Daniels
Trust me, this hurts a whole lot more than I'd like it to, but at 45 years of age, I think we can safely say that the book has closed on The Fallen Angel ever having an in-ring WWE career.  In truth, that book probably ended years ago, but ever the optimist, I kept hoping as long as I could.
That doesn't mean Daniels doesn't have value for the main roster, though.  He is a microphone master and as his "Almighty" title and look suggests, he's one of the best in-ring strategists the world over.  He's tailor made for a renaissance as the WWE's next great manager.
The aforementioned Jack Swagger.  Cesaro.  The Revival.  Baron Corbin.  All talents who could use Christopher Daniels to reach their fullest potential.  Not to mention the history you can revisit between Daniels and basically any other talent who ever had ROH experience, beginning and ending with one Mr. AJ Styles.
Homework Assignment: If you haven't seen the matches between Styles and Daniels in TNA (or anywhere else for that matter), go watch them.  Now.
Christopher Daniels could be the best manager WWE has seen in quite some time.  All he needs is a chance.  Don't drop the ball again on him, WWE.
3. Dalton Castle
I'm cheating a bit here, since there's a very good chance Castle winds up on the roster as a WRESTLER at some point in the near future.  In truth, I'm only mentioning Castle so I can mention this guy...
Remember Rico?  Stylist for Billy and Chuck, manager of 3 minute warning, former co-holder of the tag team titles with Charlie Haas (go look it up, it's true!)  Behind the wild attire and persona was a legitimate bad ass who went to military school, police academy and participated on American Gladiators.
Hmm, actual tough guy masquerading in a guise of flamboyance.  Sound like anyone we know?
If, for some odd twist of fate, WWE decided to pass on Castle as a wrestler (which would make them even more insane than most of us think), Castle could make an intriguing manager.
Fandango, Adam Rose and Dalton Castle?
Don't lie - You'd totally watch it.
---
What do YOU think?  Register to be a member of the ddtpod.com forums and comment below!
This week's ROH featured a 7 team tag gauntlet, with the winning team earning a future title shot against champions War Machine.  Now, the eventual winners of the gauntlet (Roppongi Vice) or even the matches themselves really don't matter for today's column, which will be a single lesson.
Lesson: WWE doesn't care at all about tag team wrestling.
Ring of Honor dedicated an entire hour long show to tag team wrestling.  The only way that would happen in WWE is if the teams were thrown together pairings purely for storyline purposes.
Ring of Honor used 7 tag teams and didn't even include some of their most popular duos, such as The Briscoe Brothers or All Night Express.   Looking at the WWE Superstars page, I can only count 8 regularly pairing teams on the entire roster, and that includes The Matadors, who we haven't seen in ages and The Ascension, who don't matter one iota.
Now, I'll grant you that ROH didn't use their all-stars in this gauntlet. Teams like the House of Truth (sans Donovan Dijak, so what's even the point?) or Brutal Bob and. . . the other guy. . . weren't going to light the place on fire.  Regardless, those teams were given a chance to shine.  The last time we saw Diego and Fernando was in a dark match BEFORE a Main Event taping.   Yeah, I know, I didn't even know they did those.
"What about NXT?" you might be asking right now - "They have teams like American Alpha and The Revival and those guys are great!"  You'd be absolutely right in saying so - They also have Enzo and Cass and the Vaudevillains. . . and I suppose Dingo and Clap Clap. . . But that's about it.   Have there been any other tandems made that we should care about?  Not that I've seen.
Another question you might have is, "So What?"  Does it really matter if WWE doesn't care too much about tag team wrestling?  Well, perhaps not to you, I suppose, and once again, that's just fine if that's your opinion.  For guys like me, though, I think tag wrestling is an art, which is why I'm so delighted each time Dash and Dawson come on my screen.
It's also why I'm grateful we have promotions like Ring of Honor.  They are willing to devote an entire hour of programming to tag teams, just like they can tap into their New Japan connections to bring international stars to our shores that most US fans haven't seen.
It might be a pain to watch for some of us, but if you're not watching ROH on at least a semi-regular basis, you're missing out.
The benefit of snow days is that it gives you time to catch up.  This is my second ROH TV of the day, and I even fit in a movie as well!  If I ever disappear off the face of the Earth, you will find me in Zootopia.
Top Prospect Finals - Lio Rush vs. Brian Fury
I have two lessons for this one - a minor and a major.
Minor lesson - The beauty of keeping other people safe.
I wrote in the column for ROH from 2/27 about the inherent danger in wrestlers of vastly different sizes going up against each other.  Lio Rush and Punisher Martinez made sure to avoid contact with each other, and I understood why.  This match highlighted the opposite of that, and I thought it was really telling as to the skills and person that is Brian Fury.
Now, I'm not a wrestling expert and I've never claimed to be.  So I could be completely wrong on this, and I am aware of that.  But go back and watch this match again - When Lio Rush dives over the top rope, one can distinctly see Brian Fury duck and dart forward, providing a human cushion for Rush to land on.  There is really no logical reason for Fury to do that in a kayfabe sense, so I submit that he did this solely for the protection of young Lio. I was glad to see it.
We've seen the rash of injuries in the last year - We know that wrestling is a dangerous sport.  Guys like Fury do the best they can to make sure that nobody is injured on their watch.  I have to respect that.
Major Lesson - The Top Prospect Tournament needs to take place in NXT / WWE.
Titan Sports has never been shy about borrowing from other promotions, including Ring of Honor.  (Remember when Seth Rollins was WHC and US champion for no particular reason?)  The TPT would be a great thing to borrow.  Who knows, maybe that is what this Global Cruiserweight Series will wind up being.
There's a lot of talent in the NXT developmental system, and as I've tweeted, talked and probably even written about, it's going to be hard to give everyone the time they need if they keep signing new talents every 12 minutes.  Doing some sort of tournament, which would focus on the lesser known guys (Rich Swann, Chris Girard) would be a great way to give some guys exposure.  NXT and WWE brass could see what they had and how the crowd reacted, giving them an opportunity to streamline, tweak or fast-track as needed.
I think this would be beneficial for all involved.
Kongo vs. Moose
Lesson - Rusev is being criminally misused.
It might seem odd that a lesson from a ROH show would apply to a WWE superstar, but those who saw this contest should be able to see my connections.  Kongo, who I have never seen before, is a larger superstar who moves with grace and speed, and was a whole lot of fun to watch.
Rusev is the exact same way, except he also has some legitimate fighting experience under his belt.  How is he NOT breaking down the door of the main event scene?  This isn't just because I made the #PreDCtion that he'd contend for the World Title at some point in 2016 - He seriously is an amazing athlete.  If you can get a high quality match out of somebody who looks and has the name recognition (ie, none) of Kongo, Rusev should have NO TROUBLE getting over.
With the right gimmick, of course.
Note: This lesson could also be applied to Bray Wyatt, Luke Harper and any other athletic big man not getting a fair shake.  The era of the super-heavyweight is over, folks.  This is what "big men" will be like in wrestling from now on - Let's embrace it.
Cedric Alexander vs. Adam Page
Lesson - Adam Page should try some sort of Clockwork Orange gimmick.
With the entrance video and the trunks, he's halfway there already.
Oh, and he looks like Oliver Queen.  That is all.
Dalton Castle vs. Christopher Daniels
Lesson - Multiple wrestling promotions are a very good thing.  
I've been a Christopher Daniels fan ever since I first watched The Era of Honor Begins back in college; in fact, he'd probably be included in my list of Top Ten Favorite Wrestlers of All Time.  In fact, I'm pretty sure he made my Top 3 for last year's NAI150.  As for the Peacock, I'm a Castle fan as well, so I was naturally going to really enjoy this match.
What struck me as I watched was this, though - If these guys were in the WWE system (either NXT or the main roster), what would they be doing?  Dalton is just a more athletic and flamboyant Adam Rose - Would he be part of the Social Outcasts?  The Fallen Angel, while a huge name in the independent scene, wouldn't have the same excitement that Styles or Aries did, so he'd already be fighting from behind by the time he made his debut.
In other words, there's no way we'd be seeing either of these two great wrestlers anywhere near the main event scene, so I'm grateful that promotions like ROH exist to be able to highlight them.
We rejoice each time we hear that new names have signed with WWE, but I think this is one of those 'be careful what you wish for' situations.  The probability that this just leads to more complaining about talents being "b-----" is getting a bit too high for my tastes.
One of the things I'd like to do with DDTpod.com is start crafting columns for the wrestling I watch, and since I happen to have a snow day today (on the second day of spring, no less), I decided to try to catch up on my Ring of Honor viewing.
I have a hard time watching ROH regularly.  Part of it is the inconvenience of it all, and I mean that in the most first world of ways.  Logging onto my desktop, going to the website, logging in, finding where I left off - I mean, man, what a hassle!
Still, I always enjoy it when I do watch, so I'll try to be better about this, NAIborhood.
Rather than providing an actual review, which you can find anywhere, let's go back to my Teacher Days, and I'll try to provide a lesson one can learn by watching each match.
---
Silas Young and the Beer City Bruiser vs. The Boys
Lesson:  Depth of talent matters.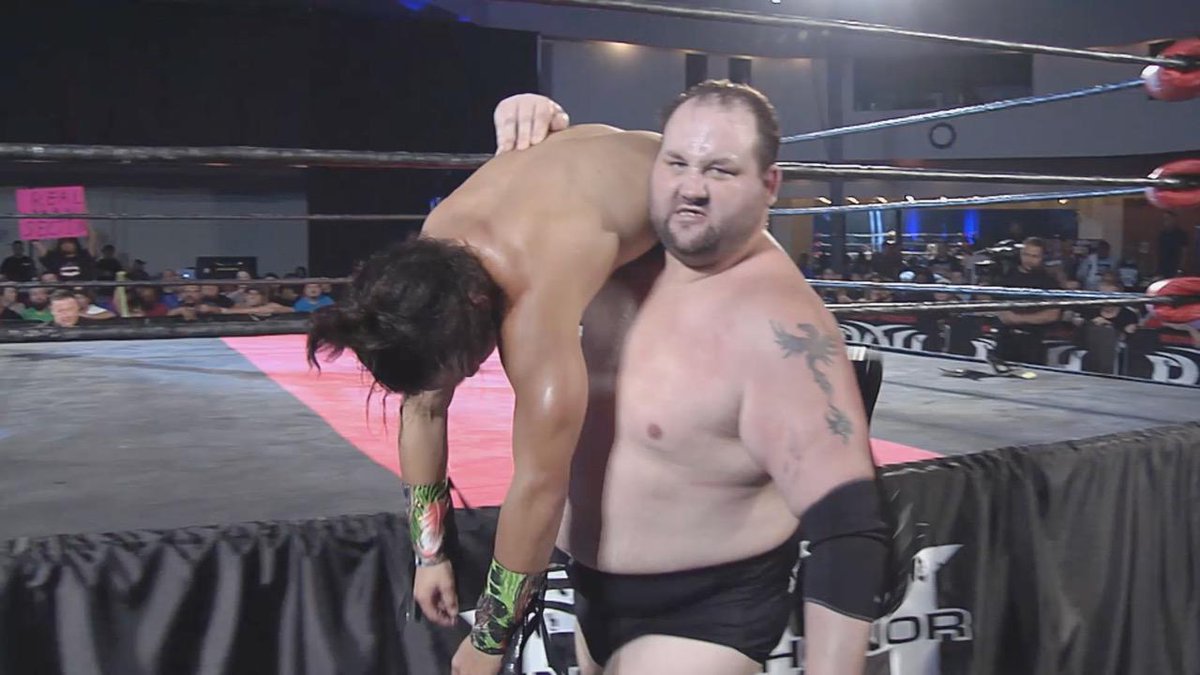 I'm a huge Silas Young fan, as I've mentioned multiple times before, but in this case, I want to talk about everybody else in this match.  Let's start with the Beer City Bruiser, someone who is far more capable in that ring than his size should allow.  Between him and Adam Cole later in the show, I might have to start a petition to start seeing the Wheelbarrow Suplex in WWE - such a good move!
I was also impressed with the abilities of the Boys, whatever their names are.  I was thrilled to see them have actual tights and boots to battle in and they did a pretty admirable job in the ring.  I'm not sure if they are long-term fixtures in the ROH tag scene, but I hope they get a chance, because they were fun to watch.
None of these talents are anywhere near the top of the card yet they were still able to put on an entertaining and engaging opening contest.  You have to have that.
Brian Fury vs. Action Ortiz
Lesson: Experience matters, too.
Sure, I could spend this time talking about the amazing dive that Bam Bam Bigelow Ortiz did, and that was super impressive, but we're focusing on Fury.  In both of his ROH matches so far, we've seen him win by taking advantage of his 17 years of experience.  In his opening match, he grabbed the referee, keeping his opponent from hitting a top rope maneuver and then quickly picking up the win.
In this match vs. Ortiz, he used the momentum of a fall to score a cheap low blow that looked very much like an accident, following it up with his impressive powerbomb.  We don't see this kind of thing often.  I was reminded of watching NWA PPVs on WWE Network - this is how the Four Horsemen cheated back in the day.
Since these shows are pre-taped, I know what happens in the finals, but regardless of the outcome (#SpoilerFree), I hope Fury sticks around in ROH, because he's a lot of fun.
Punisher Martinez vs. Lio Rush
Lesson:  Size matters.
Full disclosure - I didn't realize there was a theme to my lessons here until reading over the first half of the column.  Happy accident, that was.
While this match was good, the fact that Martinez was a full foot taller (not to mention probably 100+ pounds heavier) factored into the quality.  We saw on a couple of occasions that the two wrestlers avoided a full-on collision, probably because it might have squashed poor little Lio.
I'm not taking anything away from either competitor - Punisher looks like he belongs on Lucha Underground ASAP and Lio Rush has a lot of skills for a rookie, but this is one of the reasons why I feel that having weight classes isn't a bad idea.  Martinez' dive over the ropes would have been a whole lot more stunning had he actually connected with Lio with anything but his hair and his fingertips.
Matt Sydal vs. Adam Cole
Lesson: Adam Cole is as natural a talent as Kevin Owens.
I love Adam Cole, babayyyyy.  Everything about him screams professional wrestler, despite the fact that he doesn't have the stereotypical muscle-bound look.  But the way he walks, the way he talks, the way he has the crowd in the palm of his hand. . .
Sounds like our current Intercontinental champion, doesn't it?
Adam Cole and Kevin Owens were both born to be professional wrestlers.  More specifically, born to be heels, even though the crowd goes crazy for them.  They each have the innate gift for this business, and that's why I firmly believe Adam Cole signs with WWE by the end of 2016.  Contracts be damned, whatever Adam's is.  It's going to happen.
BABAYYYYYYYYYYY!
I used to wonder why we rarely saw columns from the NAIpod gents on newageinsiders.com.  Then I started a podcast and figured it out - When you're doing 1-2 hours of aural content a week, it leaves very little to be discussed in a written form.  Doc Manson and I just finished Episode 10 of the NAIborhood Podcast, which will be available this Sunday, and we covered a multitude of topics.
Though we didn't get into this week's NXT or ROH in too much detail.
Get ready, gang. It's time for the Chief's Briefs.  I won't cover everything, though you can pretty safely assume if I don't mention it here, you'll hear about it on the podcast.
NXT
This new Tye Dillinger gimmick is a Perfect Ten.
Well, maybe it's more of an 8 or a 9, but still . . . Really solid.  I've never been on the Dillinger bandwagon, but being on his own (away from his former and more talented partner Jason Jordan) has done wonders for Tye.  I like the shirt, the sign, the hand gesture, it all works for me.  At the very least, he's become a natural tag partner for Tyler Breeze, and since NXT is all about tandems these days, that could be a lot of fun.
Solomon Crowe is the new CJ Parker.
If I had to offer a #PreDCtion as to who would be battling Apollo Uhaa Crews Nation at Takeover (conveniently also Uhaa's birthday), it would be Crowe.  He seems to be the guy all the other guys beat.  I mean, he lost to Tye Dillinger, for goodness sake.  I haven't seen much of anything that has impressed me with Crowe, though last night's match was probably my favorite of his so far.  Not saying much, true, but it was decent enough.
Baron Corbin is Tall and Terrible.
We do cover Corbin a bit on the podcast, but I just wanted to say it again.  He's just awful.
The Phantom of Full Sail
Remember when Tyler Breeze wrestled Marcus Louis, the "ultimate uggo"?  Then we had some random NXT episode where Marcus was watching Breeze from off in the bowels of the building?  I bet you don't, but I do, and it was amazing.  I had really hoped this would be a new start for Marcus, and while the weird look and creepy entrance has remained, he's now just an enhancement guy.
I still think he can be saved, though.  I'm hopeful NXT does something with him.
BullFit, part 3
I don't know what I'm expecting from Dempsey at Takeover.  He better have a match, that's all I know, or at least some sort of in-person segment.  I'm totally bought in now, not that I wasn't before, I suppose.  But I can't wait to see what happens next.
Ring Of Honor
Membership
I become a full "Ringside" member of ROH, which allows me to see a lot of old footage, which I'm excited for, though the list of things to watch now is almost too big to adequately manage.
I also thought that my new membership status allowed me access to ROH TV earlier than others.  Is that not the case?  I had to wait until literally 15 minutes ago to be able to finish this week's episode.
While I'm on the subject, I can't stand how I'm still seeing previews for Death Before Dishonor. I get that it's an iPPV, so you can order it whenever, but COME ON!  When the results have been talked about on your own TV show, stop making it seem like it's new and exciting, because it is neither.
ACH Scorpio
Not exactly sure what the future holds for this talented guy - Hopefully a TV title run isn't out of the realm of possibility, but he really moves around the ring better than just about anybody else right now.  I've said it before, but I hope his entrance (the rope flip into a pose) is available in WWE2K16.  I could design an entire wrestler around that single thing alone.
(In fact, I have a guy I've created many times before that would be perfect for it - An aerial martial artist named The Burning.  Before you mock me mercilessly, I'd like to point out that I first created this character back in high school, before I really knew about the world, ya know?
WarBeast
Todd "Warbeard" Hanson is probably in my top 5 ROH talents right now. . .Maybe even Top 3.  I am sure that I will get on board the Dijak Hype Train one of these days, but right now, Hanson is the best big man in that promotion. . . If not in wrestling entirely.
He might not be yet at the level for a serious World Title push, but like ACH, the TV belt should be easily within reach for Hanson.
Adam Page, BJ Whitmer, Kid Corino, and the like
Meh. . . That is all. . .
The Crumbling Kingdom
There's only so many times Adam Cole can defy the Kingdom without Maria's minions exacting vengeance.  The big question for me is - "Who is the newest member, the one who can go for the World Title?"
Could be Roderick Strong, I suppose.  He's already contending and would fit in with that group dynamic.  Could be someone from Japan, perhaps, though here's my ideal choice.
Kyle O'Reilly
He's certainly World Title worthy and it would be a perfect case of best friend betrayal for O'Reilly to abandon his former Future Shock teammate and side with "the enemy".  That's what I'm hoping for.
---
Neither show was must-watch by any means, but there were some quality matches, some new characters, and some potential for storyline advancement.  In other words, a good week's work for both NXT and ROH.
What did YOU think?  Be Heard.
The nice thing about deciding to watch Ring of Honor for the first time on a Wednesday is that there was a new episode available to the "free" members (that's me) on Thursday, so last night (technically Friday), I sat down and watched the show many of you saw on Destination America.
Truthfully, I think they'd have been better off showing the previous week's episode.
One of the major problems ROH is going to have to deal with is starting their "mainstream" run from a midpoint.  Lucha Underground began on the El Rey Network, so they were able to tell all of their stories from page one.  Ring of Honor doesn't have that luxury.  People watching on DA saw four matches featuring a whole bunch of talents and storylines that, to a brand new fan, were very confusing.
Now, most people watching are probably at least somewhat familiar with the product, so it won't be that big of a deal, but as a relative neophyte, I found myself losing interest at times solely because I didn't understand what was happening.  This is something ROH will have to consider in the future.
The previous week's episode featured an amazing 30 minute match between Jay Lethal and Kyle O'Reilly.  THAT would have caught the attention of fans looking for WWE alternatives - When was the last time a WWE match went to a time limit draw?
(Before you jump down my throat, I get that this all probably happened fast so ROH put out the next TV show they had.  I'm sure it will improve - I'm just telling you how I felt.  Relax)
Anyway, on with the show.
Will Ferrara vs. Kushida
It's entirely possible that the most famous guy to casual wrestling fans was Will Ferrara, who played the cameraman Ambrose attacked on RAW a few weeks ago.  That's sad, since he was relatively unimpressive.
His opponent was Kushida, from New Japan.  This is one of the happy accidents that likely resulted in this episode being the "premiere" for ROH - The Japanese connection.  As someone who has watched no Japanese wrestling at all, I was excited to see this guy, especially since he was dressed like Marty McFly.
Strong showing here from Kushida, which I imagine was the entire point of the match.  Thanks to the NAIborhood, I learned he is part of the Timesplitters tag team with Alex Shelley, a guy I remember from TNA.  I'm excited to see that tandem, which hopefully will happen soon.
Aside: By the way, next week's episode - ReDragon?  The Addiction?  That's where they're going to collect some fans, my friends.
Silas Young vs. Watanabe
As friends and frequent readers know, I don't tend to follow the "trends" when it comes to pro wrestling.  I find myself drawn to a unique group of talents, which is why so many of you mentioned that I needed to listen to the Bull Dempsey episode of Taz's podcast, and I assure you that I will in time.
I doubt any of you will be surprised to learn that Silas Young is now one of my favorite ROH wrestlers.  Much like Dempsey, he's a throwback, Jake Roberts' era mustache and all.  Plus, when he kicks people, he looks like he actually kicks people, and I like that.
I enjoyed this match and celebrated far more than I probably should have when "The Last Real Man" won.  He even has a throwback-style finisher, the airplane spin into a TKO.  Are you listening, Dempsey?  Stop the damn headbutt!
Moose vs. Steve Corino's kid.
This is where the wheels fell off the wagon for me.  I don't know the story behind any of this, so I wound up bored and confused.  Obviously BJ Whitmer and announcer Steve "Why are they calling him King?" Corino have history - That's clear.  What's Whitmer's stable all about?  Who are the people with Moose?  For really casual fans, what in the hell is a young boy?  All of these questions, plus the fact that I actually felt bad for this scrawny teenager being thrown against a guy named Moose, led to this being my least favorite ROH segment so far.
I'm serious when I say that ROH is going to need to spend a lot of time this summer introducing us to the talents.  We're going to need vignettes with voiceovers that tell us who these guys are and why we should care about them, otherwise the new fanbase ROH is trying to attract won't stick with them.
They're going to need to take a page from Lucha Underground and scale back for a while.  Spend a couple weeks just doing a few storylines - Briscoes vs. House of Truth, for example, and maybe the tag title scene.  Once we get a handle on those, slowly expand.
I am sure that Moose is a talented wrestler who will impress me over time, but any pro wrestler should be able to toss around a kid.  Plus, Kevin Owens has the market on the powerbomb right now.
The Briscoes vs. House of Truth (J. Diesel and Donovan Dijak)
After months of the New Age Insiders inflating the tires of young Mr. Dijak, I finally got the chance to see what all the hype was about.  Donovan definitely has the look - So much so in fact that it almost took away from the beginning of the match.  What are all these short guys doing here with a REAL wrestler?
Then he did a backflip.  Much like Hawkeye with Quicksilver, I didn't see that coming.
Nerd Aside: If Scarlet Witch has all these crazy undefined powers, why didn't she just bring her brother back to life?
Having not seen the Briscoes in action in a decade (in fact, I don't know if I've ever seen Mark wrestle), I found myself drawn to the long-haired wildman of the team even moreso than his World Champion brother.  He's got some serious skills.
Solid match all the way around - I didn't get a great look at Dijak's finisher, because the ringside lighting wasn't working for me, but from the silhouette of it, it looked cool.
The star of this match was Jay Lethal on commentary.  Again, the growth he has made from TNA to ROH is amazing.
Overall Thoughts
Again, and this is just probably the wrestling purist in me talking, I think ROH would have been wiser to showcase the MOTY candidate with O'Reilly and Lethal rather than this card as their "season opener".  Still, it was a solid hour of wrestling, and I'm excited to see the tag team bonanza next week.
DC's ROH Top Ten
Each week, as I discover new talents and find deeper appreciation for others, I'll make a quick ranking of my 10 favorites.  It'll give us something to disagree on.
Remember, this is based solely on 2 weeks worth of ROH watching.
1.  Kyle O'Reilly
2.  Jay Lethal
3.  Silas Young
4. Mark Briscoe
5. Kushida
6. Donovan Dijak
7. Jay Briscoe
8. Watanabe
9. Caprice Coleman
10. Michael Elgin
---
What do YOU think?  Did you enjoy ROH's DA debut?  Who has impressed you the most?  Be Heard.